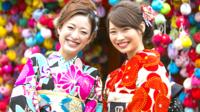 Kyoto Kyoto Prefecture Authentic Kimono Plan in Kyoto.
Coordinate an authentic kimono!
A rental plan where you can choose your favorite kimono from 200 types of designer brand kimono and branded kimono. It also comes with an obi belt decoration, a shawl and a haori coat, so it will look luxurious in the end. This is the recommended plan for you if you want to choose your own kimono outfit coordinate, you want to wear an authentic haori coat or if you want to wear a brand kimono to stand out from the rest. 
.
Authentic Kimono Plan in Kyoto Product Details
Product Code: 51978P147
Duration: 60 minutes
Commences: Kyoto, Japan
Location: Kyoto Kyoto Prefecture Japan
Category: Cultural Tour
Kyoto Kyoto Prefecture Cultural Tour Prices
Australia $60.86
Canada $58.89
Europe €39,05
Hong Kong $347.31
Japan ¥4,914
New Zealand $64.95
Norway kr381,22
Singapore $61.09
South Africa R616.99
Sweeden kr403.13
Switzerland CHF44.17
United Kingdom £34.56
USA $44.17