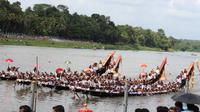 Kochi Kerala Oceania Insignia Exclusive Cochin City Discovery Tours Pick and Drop at Ship.
Hello! "Oceania Insignia " Passengers .
Skip the Line ! Book a Private Tour!
You are met at the ship with "Viator"sign and pager board of Your Name..
Comfortable transportation, entertaining and enriching travel experience, and travelling sustainably. ( your dollars are going back where it counts!)
Different tours for you to choose!
1.Kochi City Discovery 6 hours on May 6,2019
2.Koch City & Backwaters 8 hrs. April 20,2020
3.Kochi City Discovery 6 hrs.April 20, 2020
4.Cochin City & Backwaters. 8 hrs.May 6, 2019
Fort Kochi, Jew Town, Synagogue, Chinese Fishing Nets, St. Francis Church, Dutch Palace.Sit for tea in a boutique restaurant at spice market /lunch in a fish specialty restaurant/shopping in Jew town
Backwater ride in houseboat, lunch at beach.
 
.
Oceania Insignia Exclusive Cochin City Discovery Tours Pick and Drop at Ship Product Details
Product Code: 35151P16
Duration: 6 to 8 hrs
Commences: Kochi, India
Location: Kochi Kerala India
Category: Day Trips
Kochi Kerala Day Trips Prices
Australia $70.11
Canada $68.01
Europe €44,98
Hong Kong $401.09
Japan ¥5,816
New Zealand $74.98
Norway kr440,01
Singapore $70.53
South Africa R711.73
Sweeden kr465.31
Switzerland CHF51.00
United Kingdom £39.81
USA $50.00