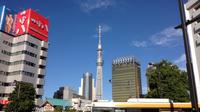 Tokyo Tokyo Private Muslim Tokyo Tour. Private Tokyo tour for Muslim tourists including Tokyo downtown and latest shopping streets. You will have a prayer time during the tour, the lunch is halal or halal friendly..
Private Muslim Tokyo Tour Product Details
Product Code: 20563P1
Duration: 8 hours
Commences: Tokyo, Japan
Location: Tokyo Tokyo Japan
Category: Private Tours
Australia $150.98
Canada $146.09
Europe €96,86
Hong Kong $861.57
Japan ¥12,190
New Zealand $161.12
Norway kr945,68
Singapore $151.56
South Africa R1530.55
Sweeden kr1000.03
Switzerland CHF109.58
United Kingdom £85.73
USA $109.57
Tokyo Private Tours Availability
You may also like to review:
Find out more about
Tokyo Private Tours
Travel information, things to do and accommodation specials.