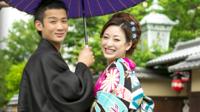 Kyoto Kyoto Prefecture Luxury Brand Kimono Plan in Kyoto.
A gorgeous and special experience for you!
This plan enables you to experience a kimono coordinate which is gorgeous at the highest level. Included are of course an obi belt decoration, shawl and a haori coat but hair setting is also included in the price. This plan is recommended for those who like to be the prettiest in Kyoto. 
.
Luxury Brand Kimono Plan in Kyoto Product Details
Product Code: 51978P163
Duration: 60 minutes
Commences: Kyoto, Japan
Location: Kyoto Kyoto Prefecture Japan
Category: Cultural Tour
Kyoto Kyoto Prefecture Cultural Tour Prices
Australia $86.95
Canada $84.13
Europe €55,78
Hong Kong $496.16
Japan ¥7,020
New Zealand $92.79
Norway kr544,60
Singapore $87.28
South Africa R881.42
Sweeden kr575.90
Switzerland CHF63.11
United Kingdom £49.37
USA $63.10