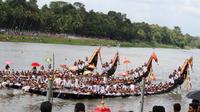 Kochi Kerala Oceania Nautica Kochi Tour with Fish Specialty Lunch and Kathakali classic Dance.
Hello! "Oceania Nautica " .Skip the Line ! Book a Private Tour!
You are met at the ship with "Viator" sign and pager board with Your Name. Dropped back at the ship after tour. Itineraries are customized to meet your ship's arrival and departure schedule.
Comfortable transportation, entertaining and enriching travel experience, and travelling sustainably. 
Our Tours!
1 Kochi Tour with Fishing Village Excursion. Dec.15. 2018, Apr. 20. 2019 Dec. 17, 2019. May 12, 2020
2 Backwater & Houseboat Tour. Dec.15. 2018, Apr. 20. 2019 Dec. 17. 2019. May 12, 2020
Attractions in Fort Kochi, Jew Town, Synagogue, Chinese fishing Nets, St. Francis Church, Dutch Palace. Suburban Fishing Village to witness fish trade in the morning. Lunch in a fish specialty restaurant or hunt for gifts in Jew town.
Backwaters cruise in houseboat, lunch on board the houseboat while cruising. And orientation tour of Kochi.
.
Oceania Nautica Kochi Tour with Fish Specialty Lunch and Kathakali classic Dance Product Details
Product Code: 35151P15
Duration: 6 to 8 hrs
Commences: Kochi, India
Location: Kochi Kerala India
Category: Cultural Tour
Kochi Kerala Cultural Tour Prices
Australia $70.11
Canada $68.01
Europe €44,98
Hong Kong $401.09
Japan ¥5,816
New Zealand $74.98
Norway kr440,01
Singapore $70.53
South Africa R711.73
Sweeden kr465.31
Switzerland CHF51.00
United Kingdom £39.81
USA $50.00